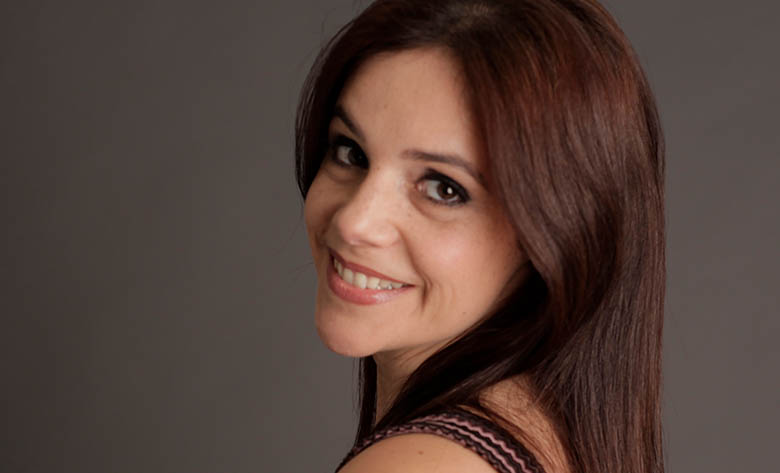 Carla Pires began her singing career in 1993, participating in several musical projects, recording soundtracks and playing roles as an actress for TV series in Portugal. For three years, she performed the young Amalia Rodrigues in the successful Portuguese musical about this fado idol.
She established herself as a fado singer in 2008, when she embarked on a 10-concert tour of France and also performed in Spain, Austria and Algeria. Since then, she has constantly toured internationally, entertaining audiences in Europe, Africa, Asia and Latin America with more than 400 performances around the world.

Some of the highlights were performances at prestigious venues such as Osaka Symphony Hall, Okayama Symphony Hall, Hiroshima Bunka Gakuen Hall, Kobe International House, Nakano Sun Plaza-Tokyo (Japan), Graz Opera (Austria), Södra Teatern (Stockholm, SE), Concertgebow Amsterdam (NL), Cirque d'Hiver and Théâtre de la Ville (Paris, France) and Teatro Solís (Montevideo, Uruguay).
VIDEO: NL VPRO TV - Vrije Geluiden Program: Meu amor, meu amor

Following her debut album Ilha do meu fado (Ocarina,2005), Carla released Rota das Paixões (Ocarina/World Village, 2012). In 2014, at the invitation of the prestigious Portuguese choreographer Vasco Wellenkamp, Carla Pires embarked on tour of 42 dates through The Netherlands with the show fado, a co-production between the Portuguese National Contemporary Ballet and the International Danstheater (Amsterdam) about fado, with live music performed by the singer. This show won the Audience Dance Award 2014.
Pires' third solo album "AQUI" was released in November 2016. "AQUI" sings of the city of Lisbon - female, free, diverse - where so many genres meet fado, such as tango or samba… and where they find a natural union in the voice of Carla Pires and the instruments of the musicians.
2017 follwed the "Aqui" World tour, with concerts in France, Spain, Switzerland, Belgium, Poland and a 14-concert tour of Japan, between 28 October and 14 November, at the best venues of the main cities: Kasaoka Civic Hall |Okayama Symphony Hall |Arkas Sasebo |Hiroshima Bunka Gakuen Hbg Hall | Higashi Kurara Hall |Izumo-Shi Shimin Kaikan | Kobe International House |Osaka Symphony Hall (2 concerts) | Nara-Ken Bunka Kaikan | Wakayama Municipal Auditorium |Joyo City Cultural Center | Nakano Sun Plaza Hall (Tokyo). 2020 she released the album Cartogrofando (Ocarina) in Europe.
VIDEO: Live bei Radio-Warschau: Lisboa Menina e Moça

On stage, supported by excellent musicians and their distinctive sound, Carla Pires has a remarkable presence and the power and talent to thrill her audiences. She is a great singer with a unique voice, which carries the fado and its special feeling through amazing musical roots.
LIVE Line-up: Carla Pires (voice) | Bruno Mira (Portuguese guitar) | André Santos (classical guitar) | João Novais (Doublebass)
CARLA Pires website: https://carlapires-fado.com/