WARSAW VILLAGE BAND ("trans-minimal roots")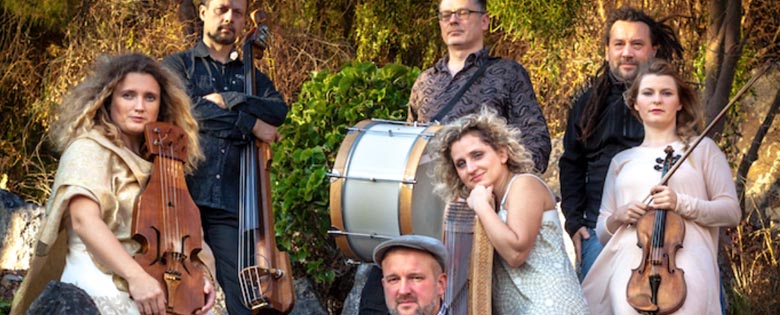 The Warsaw Village Band with 7 bandmembers (voice, dulcimer, violin, viola, suka, hurdy-gurdy, frame drum, big drum, bass and trumpet) is a symbol of young, intelligent Eastern European music which combines tradition with modern elements and is capable of eliciting enthusiastic responses from rock audiences and traditionalists alike.
The New York Times once referred to them as one of the most important bands on the World music stage comprising "the sound of globalization!".
2004 the band received the "BBC WORLD MUSIC AWARD, The Warsaw Village Band´s newest album "Sun Celebration" was awarded with the Polish Grammy, the Fryderyk Award 2016 "Album of the year - for roots music, it became top no. 2 of the World Music Charts Europe, WMCE 2/17.
Their 7th album "Sun Celebration" exalts in the spiritual brotherhood that crosses religious and ethnic boundaries which are elevated in these restless times and that Warsaw Village Band have experienced on their travels. It features world famous guests from India, Persia & Spanish Galicia.
In march 2017 the band performed at WOMADelaide Australia and WOMAD New Zealand. This summer the band played international festivals in Poland, Germany and France.
The band is celebrating their 20th birthday in 2017 and will be presenting a show in Warsaw in November, with Bill Laswell as special guest.
Currently the band is working on a new album which will be released in 2018.
More information:
Bandmembers:
Magdalena Sobczak
Dulcimer (Hackbrett), vocals
Sylwia Swiatkowska
Violin, viola, suka, vocals
Ewa Walecka
Violin, hurdy-gurdy, vocals
Maciej Szaijkowski
Frame drum, percussion
Piotr Glinski
Big drum, percussions
Pawel Mazurczak
Double bass
Milsoz Gawrylkiewicz
Trumpet, flugelhorn
Also available "live-projects":
Warsaw Village Band & Mercedes Peón
Warsaw Village Band & Dhoad Ensemble
Please feel free to contact us.