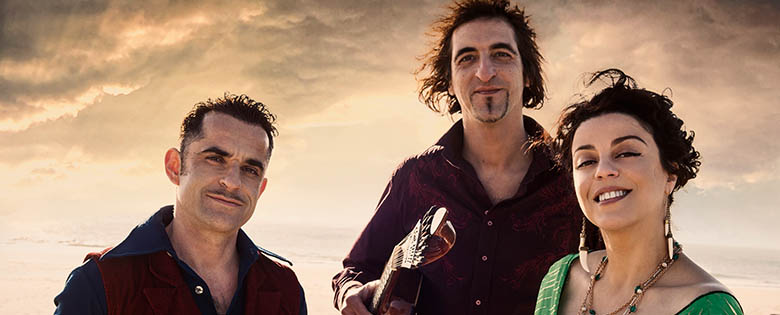 OqueStrada renews and changes the traditions of Portuguese music. OqueStrada´s music comes from the suburbs, bars and shady corners of Lisbon. Far from music studios this unlikely group has created a reputation on the road. The six musicians have taken the name Oquestrada, a neologism mixing "orquestra" and "estrada" (road), yet, more than just a contraction, this represents a new horizon and a new ambition.
"Changing paths that's what we love!" proclaims singer Marta Miranda in "Tourner en Rond", a strange rustic rap that flirts with melodic folk. And my god it moves in all directions!
Their nomadic swing travels long distances with a little melancholy in their rucksacks, a good sense of offbeat humour and tickets of acidic humour in their suitcases, or rather trunks, which exude scents from around the world. The fununa from Cape Verde, the Congolese semba, the Argentine tango, their home fado, French musette, jazz and ska impregnate the music as they sing in Portuguese, Creole, Spanish, French and English. Oquestrada is an eclectic bazar that's completely unique, just like the instruments they've put together (including washtub bass and percussion chair) and like the style they've created, the Tasca Beat!
More than music, it's the soundtrack of a country in transition, a surrealist cabaret where the Saudade combines with glimpses of the future.
OqueStrada developed with songs like "Oxalá Te Veja", "Creo carino" and "Se'sta Rua fosse minha" cult-status in Portugal. International TV- and radio features like the German Late Night Show INAS NACHT and ARTE TV, Metropolis led them to international success. OqueStrada played in Spain, Germany, Austria and France and at the "Creation of Peace Festival" in Kazan, Russia in front of 80.000 people. In 2012 OqueStrada was invited to perform as the first portugues music groupe ever, next to Seal, Jennifer, Hudson and Ne-Yo at the Nobel Peace Prize Ceremony in Oslo, Norway.