DUDU TASSA & THE KUWAITIS - Arab/Orient-Rock from Israel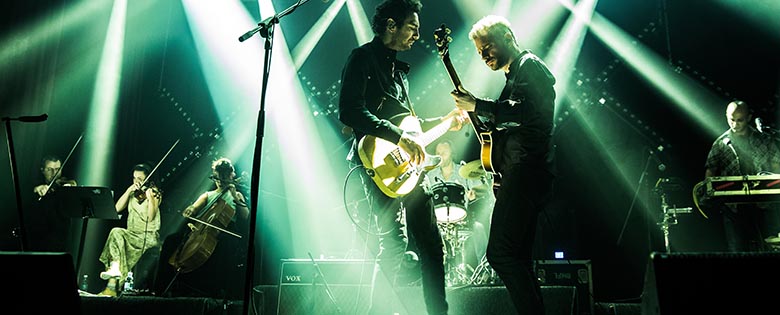 DUDU TASSA & THE KUWAITIS is the Israeli band that opened Coachella festival 2017 and was chosen by Radiohead as its support act for 2017's spring tour of the USA. With the release of the new album "El Hajar" in 2019, the band is ready to enter the global stage.
DUDU TASSA, one of Israel's leading rock stars, is the grandson of Kuwaiti musician Daoud Al-Kuwaiti, whose musical collaborations with his brother Saleh as the Al-Kuwaiti Brothers became famous in the Arabic world between the 1930s and 1950s. Their music was later banned in Iraq by Saddam Hussein during his regime when he discovered that the singers were not Arabic, but Jewish. Being of Iraqi-Jewish (and Yemeni) descent, Tassa's exploration of his roots revealed an amazing musical history.
DUDU TASSA has released 12 albums, the first of which when he was only 13 years old. He has collaborated with many prominent artists, composed for television and cinema and has featured as actor and musician in Israeli films. His concerts are sold out weeks in advance.
Having spent the last two decades gaining a reputation for his own original work, DUDU TASSA one day came across a box of old tapes by his grandfather and great-uncle.
The Al-Kuwaiti Brothers were among the greatest composers and musicians in Baghdad during the first half of the 20th century, considered innovators and creators of modern Iraqi music, who also helped to establish Bagdad's original broadcasting authority. They were among the King's favourite singers at that time and regularly performed at palaces and stadiums. Their songs remain popular in the Arab world today.
In the 1950s they emigrated to Israel, where they resorted to a humble existence, selling appliances in a market by day and playing music mostly in private and on rare occasions at a wedding.
On his albums with DUDU TASSA & THE KUWAITIS, "Dudu Tassa and the Kuwaitis" (2011), "Ala Shawati" (2015) and his 3rd release "El Hajar" (2019), TASSA turns his powerful voice and innovative musicianship to salute the Al-Kuwaiti Brothers, the ground-breaking mid twentieth century Iraqi band featuring his grandfather and great uncle.
Tassa sings their original songs in Iraqi Arabic and integrates Iraqi, Middle-Eastern, and Israeli Rock music, his own distinctive style has been shown in the impressive "Iraq'n'roll" documentary film at numerous documentary film festivals.
Line-up:
Dudu Tassa (voice, guitar)
Adel Jubran (Cello)
Ariel Qassus (Qanun)
Barak Kram (Drums & percussions)
Loay Naddaf (Violin)
Nir Maimon (Producer & Bass Guitar)
Nissren Kadre (Vocal)
Homepage Band: www.the-kuwaitis.com
More:
Tassa, who hadn't known his grandfather, listened to hundreds of Al-Kuwaiti Brothers' songs on old records and tapes of his mother's and began choosing tracks he felt he could modernise and combine with his own sound. His project resulted in first two albums: Dudu Tassa and the Kuwaitis (2011) and Ala Shawati (2015). 'Wen Ya Galub', the lead off single from debut album Dudu Tassa and the Kuwaitis, was the first Arabic song to be playlisted on the largest, premier radio station in Israel.
Both recordings, helmed by TASSA and his musical partner Nir Maimon, salute the Al-Kuwaitis legacy, revive their songs and integrate Iraqi, Middle-Eastern, and rock music in a unique style. The songs were recorded in Iraqi Arabic, which TASSA learnt especially for the project. On both albums, TASSA hosts Jewish and Arab singers and performers, from Israel and Iraq (including the notable singer and champion of Iraqi music, Ismail Fadel). Now, "El Hajar" marks the third album in his series and the first to be released in Europe.
DUDU TASSA & THE KUWAITIS is not merely about the powerful voice, musicianship and energy of the performers, but also about doing justice to an important chapter in the history of popular Arabic music.
The recording of the first album was documented in "Iraq'n'roll" (2011), a film which tells the story of reviving the Al Kuwaiti Brother's music and was screened at many international film festivals.
The project received praise from all around the world, including the countries that serve as the roots of this music, Iraq and Kuwait. Since then, has performed at the Babel Med Music Showcase in France, toured in the United States, including a SXSW Showcase, and played at Womex, the Colours of Ostrava Festival, Sziget Festival in Hungary, and a show at the United Nations building in New York celebrating the cross-cultural nature of the project.
An intriguing story and a marvellous set of music, DUDU TASSA & THE KUWAITIS album "El Hajar" gives us a great taste of history and a hopeful, inspiring and fascinating look into the future.