Ashia Bison Rouge (Ambient-Sounds)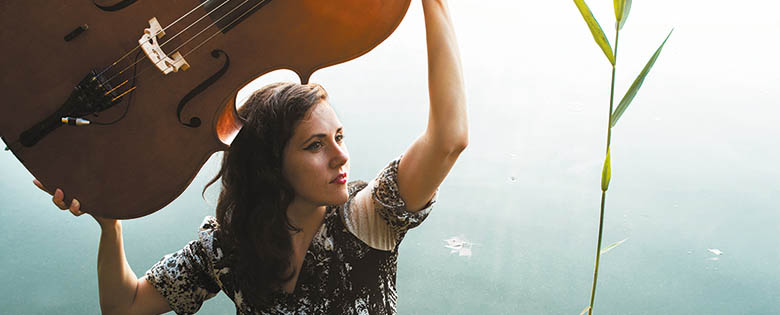 With Cello, Loopstations, effects, and her "powerfully expressive voice" (Berliner Morgenpost), Ashia Bison Rouge creates a whole world made of sounds, rhythms, moods and moving melodies. Dreamy, dynamic pop songs and rhythmic, electronic style pieces are connected by layers of ambient sounds to create what she calls a 'Song Archipelego' in her live shows. All the songs and compositions are performed live in the moment and only with her instruments and effects: no electronics, and no synthesizers. Think of it as an Organic-Cello Orchestra Concert! Her style at times comparable to the Portland Cello Project, Zoe Keating, as well as other cello based performers including 2 Cellos.
Ashia Bison Rouge is inspired by nature, ancestry, movement, and dance. Next to her solo-project she has performed with Cirque du Soleil, created pieces for Base Berlin Artistik, Chameleon Theater, and performs a key cello-playing-acting-singing role in the 'acrobatical' "Der Helle Wahnsinn". She was born in Wroclaw. Poland, then grew up near Seattle/Portland, USA, and currently lives in Berlin, DE. In Spring of 2015 Ashia Bison Rouge had the honor to perform her solo songs with the Salem Chamber Orchestra in Salem, Oregon. She has also performed with the Songbird Collective, Portland Cello Project, Arstidir, Vagabond Opera, and Jherek Bischoff.